Newbuilding orders for containers, bunkers, small dry, tankers and gas vessels increased in 2021, according to VesselsValue, rising 32.7 percent from 2020's orderbook to 1,286 vessels.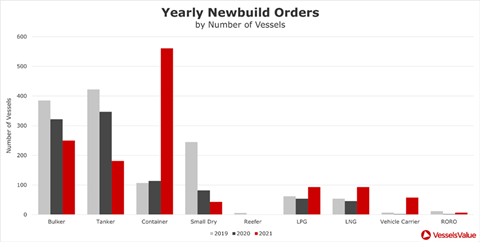 "Responding to the fast changing nature of global trade, the newbuilding orders of 2021 have reflected a world littered with restrictions on movement, geopolitical uncertainty and an increasingly prominent green agenda," said VesselsValue. Alongside this, there has been an extraordinary growth in price for certain vessels. 2020's total orderbook was worth USD42.83 billion compared to 2021's USD91.61 billion – a 114 percent increase.
As expected, the large majority of vessels ordered in 2021 are to be constructed at yards in China, South Korea and Japan. The number of vessels confirmed in these three countries totals 1,217; 682 in China, 391 in South Korea and 144 in Japan. Other notable builder countries are Vietnam and India, with 21 and 12 vessels respectively.
The biggest story of 2021 was the vast number of container vessels ordered, said VesselsValue. 561 container vessels were ordered in 2021 compared to 114 in 2020 and 107 in 2019.
2021's unprecedented box demand led to owners investing heavily, attempting to plug the supply gap. Similarly, environmental pressures and an ongoing energy crisis in Europe have encouraged investment in gas carriers to sure up global energy supply chains, with a focus away from traditional, dirtier fuel sources like oil and coal.
Speaking at the Breakbulk Middle East exhibition in Dubai, AAL Shipping's ceo Kyriacos Panayides and Martin Harren, ceo of Harren & Partner Group, discussed the newbuilding dilemma facing multipurpose operators.
Harren affirmed that his company has ambitions to replace old tonnage, hopefully by 2024. But he added that it is much harder for owners to have firm opinions on fuel. "We want the ships to run for 30 years – do we make them methanol ready? The next issue is finance… Newbuilds will be key to the green future but we need to get equity." Based on those issues, Harren said he does not expect a to see a wave of newbuilds in the near future.
Panayides at AAL – which was one of the early movers in the multipurpose sector to announce a newbuilding programme, bringing six 32,200 dwt units onto the water in 2024 – noted a key differentiator between today's investment environment and that of the past: "It is important to note that the multipurpose fleet today is mostly controlled by operators not KG funds or other investment vehicles. Operators are the ones investing in new ships – and what do operators do? They replace old tonnage or plan for the long term, they are not speculating for short-term gain – rushing to put tonnage into the water and effectively building a surplus."
An overarching problem for multipurpose operators hoping to embark on a newbuilding programme is securing yard space.