The port of Brownsville in the USA plans to increase its capabilities for handling steel slabs as a result of a major steel mill expansion project in Neuvo Leon, Mexico.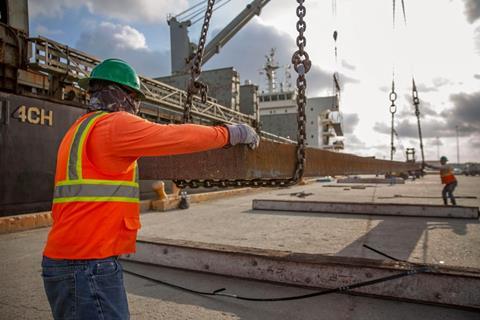 The multi-billion-dollar expansion of Ternium's Pesqueria mill in Monterrey (Mexico) could mean an increase of 1.5 to 2 million tonnes of slab moving through the port a year. "We're going to have to increase our capability as a port to unload the slab from the vessel to the dock," said port director and ceo Eduardo Campirano.
The port ordered two additional harbour cranes in 2019, which arrived in January 2020, bringing the total to three. Campirano said that it may look to order a fourth in a year or two as volumes increase.
Preparations could also involve concrete work to sustain the movement of slab from the dock to the storage/loading area, the realignment of roads, and an investment in equipment for stevedoring operations.
As production capacity at the mill grows, the port could also see bigger slabs, added Campirano, with weights reaching up to 33 tonnes each.
"The loading and unloading scheme is going to be changing. They are probably going to be going to magnets, so that means more specialised equipment. It is obviously going to increase the amount of equipment that the stevedores are going to have to come up with to handle that much slab," said Campirano.