The summer holiday season did not slow down the increase of charter rates for the multipurpose shipping sector, according to Toepfer Transport, with further increases seen over the last month.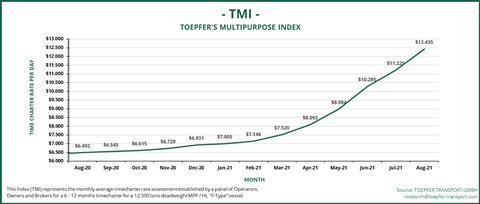 The average daily time charter rate for a 12,500 dwt/F-type heavy lift vessel hit USD12,435 at the start of August 2021 – an increase of 10.78 percent over July 2021 levels.
Year-on-year, the daily time charter rate has increased by some 91.53 percent. In August 2020, the rate stood at USD6,492.
Toepfer added that demand remains strong; the spot market remains short of available tonnage, contributing to the rising rates.