ScottishPower Renewables selected Seaway7 for the transport and installation of foundations and inner-array cables for the East Anglia Three offshore farm. The award comes a year after the preferred bidder agreement was announced.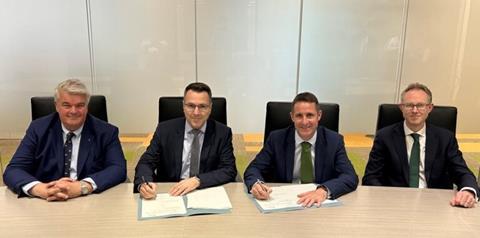 Located in the southern part of the North Sea, 69 km off the Suffolk coast (UK), it will be the world's second largest wind farm when it comes into operation in 2026. Its 95 14.7 MW turbines will have a combined capacity of 1,400 MW.
Seaway7's scope of work includes the transport, logistics and installation of 95 monopile foundations, associated seabed preparation and scour protection along with the engineering, supply and installation of the 95 inner-array cables. In addition to the heavy lifting and cable lay vessels, Seaway7 will also utilise its heavy transportation fleet to handle the significant transportation scope.
The project will progress from early engineering works throughout 2023 with offshore activities scheduled to commence in 2024. The contract is valued between USD500-750 million.
In July last year, Seaway 7 took delivery of a semi-submersible heavy transport vessel. The company entered into a bareboat contract with United Faith for its newbuild vessel Xin Qun 3, renamed Seaway Swan. The 50,000 dwt semi-submersible has an open stern and large deck free from obstructions. This addition to Seaway 7's fleet will further extend the company's capacity to load larger and longer cargoes such as XXL monopiles, and modules that would typically need to be skidded on and off the vessel over the stern.
Seaway 7 operates approximately six heavy transport vessels, as well as two heavy lift vessels, three cable vessels, and currently has two newbuild next-generation offshore wind installation vessels under construction.