Solent Gateway on the UK's south coast it hoping to benefit from an influx of renewable energy cargoes, having been designated free port status.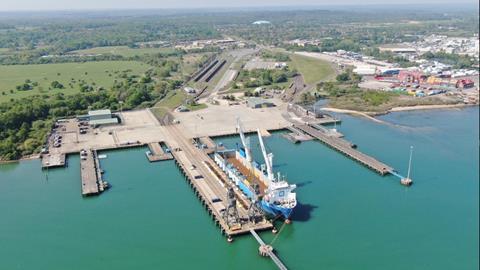 The Sector Deal between the offshore wind energy industry and the UK government in 2019 created certainty for developers that projects will go ahead. In the Solent region, this has created the potential for businesses to increase their involvement in key services such as designing, building and operating offshore wind farms, as well as manufacturing blades, turbine towers and cables, said Solent Gateway.
Solent Gateway's 225-acre (91-ha) Marchwood port has a successful track record in the sector, handling Vestas wind turbine blades destined for the Isle of Wight; it believes that the region is well-positioned to support a growth in exports.
Richard Parkinson, port director at Solent Gateway, said: "The facilities we have at the port for handling abnormal loads, together with our experienced operations team, means we have the flexibility and capability to handle complex bespoke project lifts. We are seeing more businesses take advantage of us having the capability to move large parts safely from the quayside to a suitable holding area before being transported throughout the UK or transhipped onto other ocean-going vessels.
"When the free port tax and Customs site status is confirmed, it will be cheaper and easier for many raw materials to enter the UK for use in manufacturing within the free port. Teamed with simplified planning rules, this can help us quickly build or adapt our premises where needed."
He added: "It is likely that the businesses that will benefit most from using a site like Solent Gateway, under the free port status, would be those which want to develop new facilities and operations. This would see them benefiting from incentives to attract new business: importing goods and components to the UK; storing goods for as long as they want without facing Customs duties after 90 days; and manufacturing or assembling products, as import duties are paid on final product or component parts when they leave the free port, whichever is cheaper. Any organisation that wants to import, manufacture and export within a Customs site will avoid all duties. Any business that wants to store items for more than 90 days may also benefit."
Marchwood started life as a Ministry of Defence (MoD) cargo port in 1943 and was only partially developed. There is much opportunity to use the capacity available and until now there has never been access to commercial business. As well as strong security credentials, the gateway benefits from a dedicated rail line, and is just 15 minutes to the M27 and M3 motorways.