Staff at all-cargo airline Cargolux have launched strike action after unions and management failed to come to an agreement regarding pay increases, reports HLPFI's sister title Air Cargo News.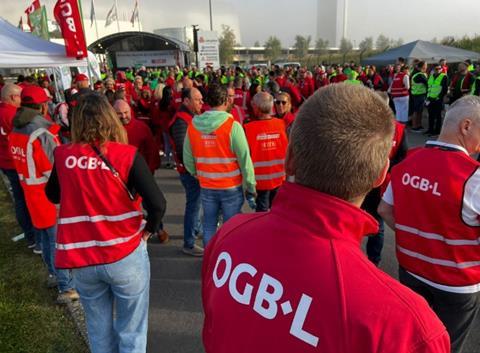 The strike action comes as the OGBL and LCGB unions have been in negotiations with the airline over a new collective working agreement (CWA) for a year and a half. Central secretary of the OGBL civil aviation union Michelle Cloos called on all Cargolux employees to stop working in order to "keep the planes grounded".
According to RTL, several aircraft are stuck on the ground in Houston, Baku, Chicago, and Dubai due to the strike. One contact said that 90 percent of the company's operations have been cancelled. Pilots and ground staff are all joining the action.
Centre to the dispute is a pay offer of 4 percent over four years which the unions describe as "insufficient compared to the excellent results of recent years and in the face of inflation".
The unions would like to see a 6 percent increase in salary for the duration of the collective working agreement, which is not linked to the company's profit-based bonus scheme.
"The company has been making millions and millions in profits during the pandemic while workers have been working relentlessly. This is not excessive. It is not more than we obtained in the last CWA when the company was doing less well," Cloos said.
The unions would also like to include protections against inflation, a new salary structure for ground staff and rules governing home working. The airline's management has described the unions' pay demands as unreasonable.
Air Cargo News has contacted Cargolux for a response.
"Only a global agreement on all contentious points can put an end to the strike which will begin tomorrow morning," the unions said in a statement earlier this week. "In order to resolve this social conflict, the OGBL and the LCGB are asking Cargolux management to assume its responsibility towards the company's employees.
"For the unions, the collective agreement must guarantee attractive salaries and thereby ensure the attractiveness of Cargolux."
The unions said that 27 negotiation meetings and five meetings at the National Conciliation Office have taken place. In July, a "large majority" of members of both unions formally rejected Cargolux's latest proposal.
In April, Cargolux announced record profits for 2022 of USD1.6 billion following on from USD1.3 billion profit in 2021.
However, at the time the airline warned that it expected the market to turn this year. "Geopolitical tensions and the war in Ukraine continue to affect global trade. As a key component of the logistics chain, air cargo is directly affected by these issues," Cargolux said back in April. "It is unlikely that the situation will change in 2023. The return of belly-hold capacity and the emergence of new players in the industry, including multi-modal companies, pose a risk of overcapacity in an already declining market."