UK-headquartered Trans Global Projects Group (TGP) is delivering approximately 320,000 freight tons of wind turbine components for two offshore wind farms in Vietnam.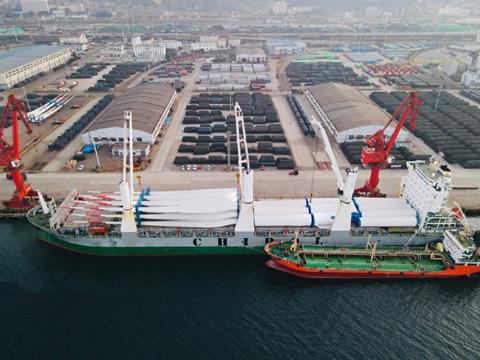 Over the nearly year-long contract – awarded by an EPC contactor in China – TGP will deliver ten batches of wind turbine components from China.
TGP's project scope includes the loading, shipping, Customs clearance, and discharge of 57 sets of 3 MW wind turbines. Each set comprises towers and blades, in addition to the hub, nacelle, and generator. The blades measure 76 m long.
Since September, the logistics company has coordinated the delivery of twelve sets of wind turbine equipment from three different locations in China to the port of Ho Chi Minh City in Vietnam.
Colin Charnock, ceo of TGP, said: "Shipment of a wind turbine's oversized components – the blades, towers and nacelles – required heavy lifting expertise and meticulous transport planning."
He added: "We look forward to continuing to utilise our knowledge in the end-to-end handling of breakbulk cargo to meet the needs of a sector that's expected to expand significantly in the coming years."
TGP said it has supported a number of wind energy projects across Asia and, looking to the future, plans to further hone its expertise in this area.