Timor port, a subsidiary of Bolloré Ports, has awarded ZPMC with the contract to supply two ship-to-shore cranes and four rubber-tyred gantries.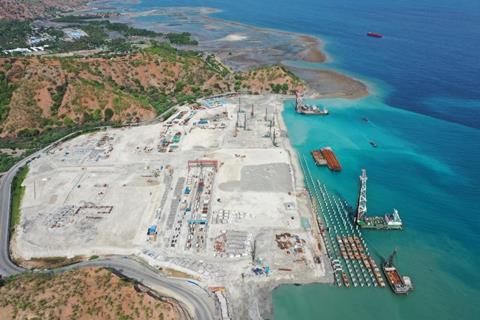 The planned deepwater port is located on the Tibar Bay in Timor-Leste. The construction works at Timor port includes the development of a 630 m wharf and 27 ha of land facilities.
The cranes supplied by ZPMC will feature the latest technologies – including new-generation electric power systems that substantially reduce CO2 emissions as well as energy consumption – and will enable the handling of large-capacity ships. Bolloré Ports said that the equipment will result in loading and unloading rates higher than those observed in the current port of Dili.
"This gantry order ranks as a major milestone in the project, which is backed by the authorities of Timor-Leste. With the new equipment, we will be able to initiate the operational phase of the project and thereby contribute to the social and economic development of Timor-Leste," said Olivier De Noray, managing director of port concessions at Bolloré Ports.