UK-based Tugdock has been selected to join the 2023 cohort of the National Launch Academy programme, run by the Offshore Renewable Energy (ORE) Catapult, designed to enhance the UK's offshore wind supply chain.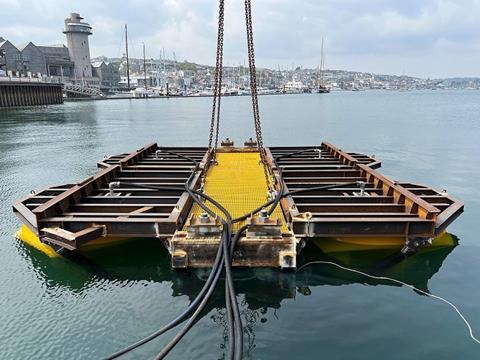 National Launch Academy is ORE Catapult's flagship technology accelerator programme. Over the next nine months, international energy company Equinor is supporting the 2023 cohort with a focus on developing solutions to challenges facing the emerging floating wind industry in the Celtic Sea.
Tugdock has been selected to work with Equinor, using its patented marine buoyancy bag technology.
Shane Carr, ceo of Tugdock explained: "The floating offshore wind sector is experiencing rapid growth around the world. However, very few of the world's ports have sufficient water depth and assembly quay space to build the huge turbine floaters required, whilst conventional dry docks are not wide enough as they were originally designed for ships.
"Tugdock's patented marine buoyancy bag technology is a solution. It allows floating dry docks to be delivered by road in modular form and assembled at the port to dimensions far wider than most of the world's existing dry docks."
"At many ports the large tidal range makes it difficult to load out the large turbine floaters from the quayside into the water. However, the Tugdock system only needs 5 m of water depth and the speed of 'air ballasting' of the Tugdock system allows the floaters to be quickly and efficiently launched in ports with high tidal range. This saves time and costs."
Tugdock is also taking part in a project with the port of Milford Haven and ORE Catapult that will simulate the process of manoeuvring large floating wind turbines into and out of Pembroke Port, as HLPFI reported here. These simulations will give a detailed understanding of the sequence of events that need to take place to successfully complete these phases of turbine recovery and deployment.
In a later stage of the project, additional simulations will be performed to assess how Tugdock's floating dry dock technology could be used to increase capability in these processes.
Last month, the company formed a partnership with Sarens to accelerate the development of its solution.
Its work with Equinor and ORE Catapult on the National Launch Academy programme, according to company director Lucas Lowe-Houghton, is expected to be a springboard for its further expansion into new overseas markets, including California in the USA.