UECC christened two of its newbuild multi-fuel LNG battery-hybrid pure car and truck carriers (PCTC) ­– Auto Advance and Auto Aspire – at a ceremony last week in Zeebrugge.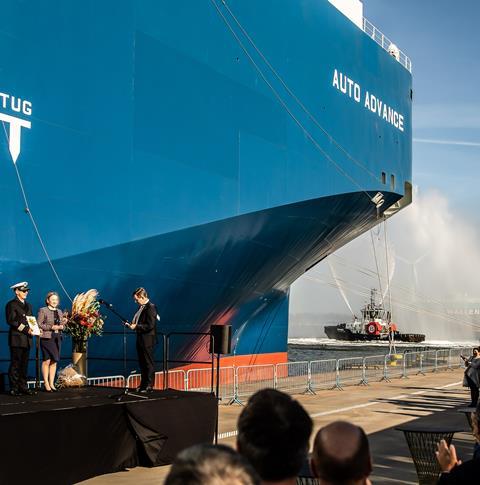 HLPFI readers will recall that Auto Aspire was delivered to the shipping line earlier this month, completing the series of three newbuilds that will operate on trade routes in Northern Europe.
At the naming ceremony, which took place on October 26, ceo Glenn Edvardsen said that the trio "will make a real difference for the environment and for business" as new green regulations are set to shift the market playing field.
Auto Advance and Auto Aspire were formally named by appointed Godmother Rosemary Lister, head of raw material, indirect and supply chain purchasing at Toyota Motor Europe.
While the christening of Auto Advance was performed in the traditional manner, with the cracking of a champagne bottle on the hull, Auto Aspire was named in a virtual ceremony.
Auto Advance has already been trading in North European waters for the past year following delivery last November from China's Jiangnan Shipyard.
"By putting the environment at the top of its corporate agenda, UECC has taken industry leadership in response to the climate challenge. Growing market demands for green operations and new environmental regulations will radically change the way we do business in future," said Edvardsen.
The deliveries of the three newbuilds over the past year have proven timely given the IMO's CII and EEXI/EEDI regulations to cut the carbon intensity of both new and existing vessels are due to kick in from January 1, 2023.
All three PCTCs already exceed the IMO requirement for a 40 percent reduction in carbon intensity by 2030, according to Edvardsen.