United Heavy Lift (UHL) has taken delivery of the F900 Eco-Lifter newbuild UHL Felicity at the CSSC Hudong shipyard in Shanghai, China.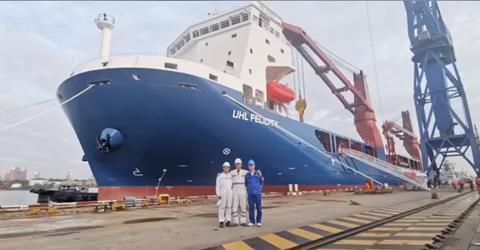 UHL Felicity is the 17th ship in a series of 19 newbuildings that are joining the UHL fleet. The vessel will make its maiden voyage from South Korea to Indonesia via Japan and Vietnam.
"We would like to thank CSSC Leasing, China, for their great support in securing the F900 vessels in a 14-year time charter to UHL," said Andreas Rolner, managing director of UHL.
The 18th and 19th ships in the series, which were ordered earlier in May as HLPFI reported here, are slated for delivery in 2023 and 2024. These upgraded F900x vessels will feature high- and low-pressure SCR catalysts to meet IMO Tier III requirements.