On November 24, UniportBilbao reconfirmed its objective of bolstering strategic commercial maritime links with the UK and its customers, while also outlining its decarbonisation strategy for the future.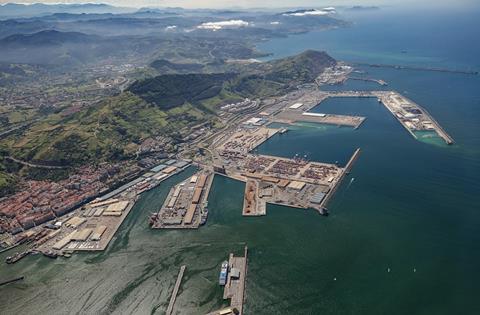 Speaking at a presentation in London, UniportBilbao chairman Jimmy Jaber Bringas said that "we cooperate to compete", emphasising that combining import-export companies from private and public sectors under one banner maintains and reinforces the trade relationship between the UK and Spain.
UniportBilbao assured that its cluster strategy will boost overall future throughput. Despite Brexit and Covid-19 its exports have increased, demonstrating the port's clear commitment to bi-lateral trade relations, according to Pablo Fano, managing director at Basque Trade and Investment UK and Ireland.
On throughput, Jaber Bringas said "data from 2021 [indicated that] foreign trade between the UK and Spain exceeded 15 million tonnes." While 3.6 million tonnes of cargo was imported from the UK to Bilbao, 11.4 million tonnes was exported back to the UK – equivalent to 31 percent of maritime foreign trade with UK. Fano explained that the port's four target industries are aerospace, automotive – around one-third of Basque exports to the UK are either vehicles or auto-parts – offshore wind energy, and rail.
Yet, while the port is nearing 100 percent utilisation of its land area, it was stressed that to accommodate further trade, extensions to the terminals need to be planned efficiently without compromising on service or trade flow. To do this, the port is investing EUR35 million (USD35.5 million) on increasing sustainability and improving accessibility, as HLPFI reported in July.
The port expressed that further expansion is intrinsically linked to its commitment to decarbonisation. According to the Bilbao Port Authority, since it became the world's first port to obtain environmental product declaration (EPD) status – this measures the environmental impact of a company's life cycle of a product, process, or service – it has reported a 66 percent reduction in CO2 emissions, and has also introduced the first ship-to-ship bunkering system in Europe.
The port's road to full decarbonisation does not stop there: by 2025 an onshore power supply will provide renewable energy for containers, cruise ships and ro-ro quays. Moreover, in collaboration with Repsol, the port is developing a hydrogen and synthetic fuel plant at the Punta Sollana quay and is expected to be functioning by 2024, along with an LNG storage and supply system.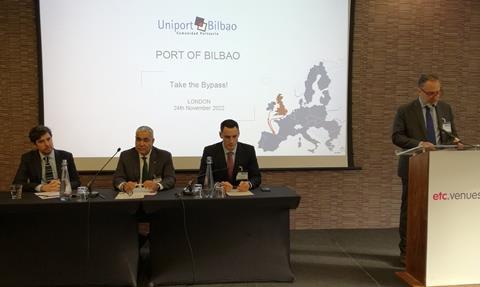 To streamline operations, Andima Ormaetxe, director of operations, commercial and logistics, Bilbao Port Authority, described building a "digital bridge" between the port and its clients. An online platform is being developed that will not only provide reports on port traffic, arrival times and congestion, but hopes to predict these factors in order to increase service efficiency. "We want to be a very dynamic, digital and green port," said Ormaetxe.
As World Cup fever grips takes hold, Mike Jauregui, overseas director of Asthon Cargo explained that in 1898, "one of the most successful exports to Bilbao [from the UK] was football," and is now realised in Athletic Club de Bilbao. Jauregui said that British sailors would play football matches in the old port on their downtime, introducing the game to the city's residents.