Wagenborg Towage has secured a contract from Jan De Nul for the transportation of 107 monopile foundations for the Gode Wind 3 and Borkum Riffgrund 3 offshore wind farms in Germany.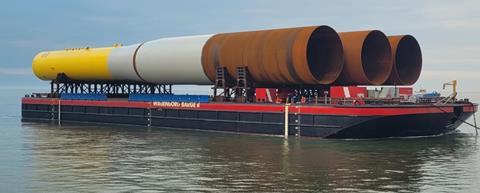 In the upcoming months, Wagenborg will use its Barge 8 (100 m x 33 m x 7.6 m) to perform 35 transports of monopiles from Germany and Denmark to temporary storage in Eemshaven, the Netherlands.
Barge 8 has hydraulically operated saddles and an additional internal ballast system so that it can carry three monopiles per voyage.
Wagenborg said its engineers carried out detailed calculations for this method of transport, taking stability, sea conditions and a weight of 1,500 tonnes per monopile into account.
Recently, Jan De Nul Group kicked off operations for the wind farms by transporting three monopile foundations onboard Wagenborg's Barge 8, as HLPFI reported here.