A specialised vessel – the Wind Feeder Barge – has been developed by Germany-based Port Feeder Barge to provide heavy lift transport solutions in rivers and coastal waters.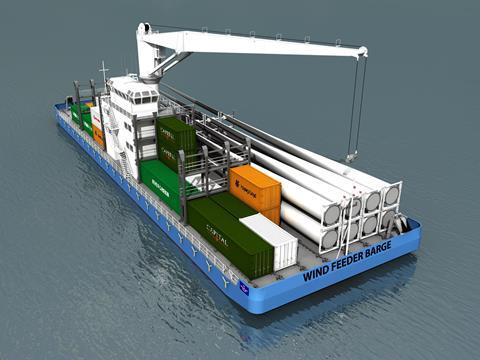 The Wind Feeder Barge can lift up to 100 tonnes using its onboard crane. Heavier cargoes can be loaded aboard via ro-ro operations.
The vessel features a 95 m x 32 m free, flush cargo deck. The double-ended configuration is highly manoeuvrable by two rudder propellers at each end of the vessel. The concept also features an innovative seafastening system for offshore components, said the developers.
The Wind Feeder Barge will primarily be used for preassembly work for offshore wind farms, transporting heavy components from production sites to the assembly port.
The Wind Feeder Barge is based on the Port Feeder Barge system, which was designed to make improve the efficiency of container logistics of the port of Hamburg.