At the start of March, Cosco Shipping Specialized Carriers' Xin Yao Hua completed its maiden voyage and successfully discharged a floating dock at Ras Laffan in Qatar.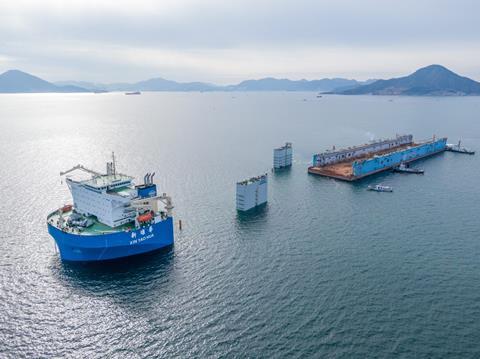 The ship was delivered in January 2022 and set sail from South Korea with the 230 m-long, 45 m-wide cargo, as HLPFI reported here.
Experienced port captains from Cosco Shipping Specialized Carriers also embarked onboard to guide and coordinate the operations with all parties concerned.
The 80,000 dwt semi-submersible newbuild has an overall length of 255 m and a breadth of 57 m and its cargo deck spans 211.2 m x 57 m. The deck can support 25 tonnes per sq m overall, and up to 125 tonnes per sq m on the webframes. The ship, which has DP2 capabilities, is the second-largest semi-submersible in the Cosco fleet.
Cosco's fleet of semi-submersible vessels now stands at nine.