The Construction Industry Training Board (CITB) has accredited Ainscough Crane Hire's online training course for the construction and infrastructure sectors.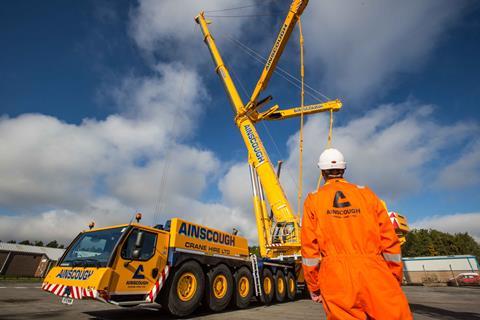 The programme includes digital and live training split into a range of areas including codes of practice, safe systems of work, and all aspects of crane documentation for BS7121. It enables candidates to become qualified as an appointed person.
In order for more people to take part in the training while maintaining social distancing measures, Ainscough has developed the course so that it can be completed either in person or virtually. According to Ainscough, this is the first time that candidates will be able to train to be an appointed person online.
On passing the technical tests, those taking part will gain the CPCS Trained Operator Card, also known as the 'red card'. Those who are already qualified to CPCS Code A40 Slinger/Signaller level will also achieve the CPCS Code A62 Crane Supervisor qualification.
Jim Fleming, Ainscough Crane Hire's quality, health, safety and environment (QHSE) training manager, said: "An appointed person is one of the most crucial job roles in the crane industry, and this new training course is a great opportunity for more people to gain a qualification that is excellent for career development and also helps to ensure the highest standards of safety are met.
"We are proud to be the first in the industry to have created an online training scheme for appointed persons, opening up the qualification to a wider range of companies and individuals. While it is important to adapt to the disruption caused by Covid-19, forward-thinking initiatives such as this will remain vital in maintaining the high standards of safety that are essential within the crane industry for many years ahead."