CJ ICM has been awarded a contract to provide project logistics services to support the construction of a natural gas treatment facility in the southern part of Surkhandarya, Uzbekistan.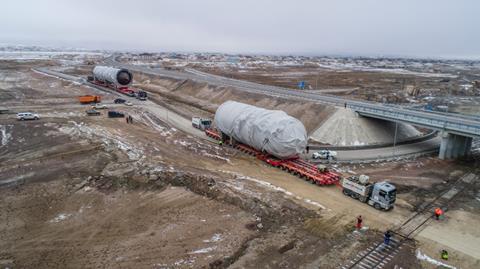 The project scope includes the sea transport, transhipment, Customs clearance, unloading and inland transportation of materials and equipment. Cargoes will originate from Belgium, China, Germany, Italy and Spain, and will include heavy components weighing more than 500 tons (453.6 tonnes).
In total, CJ ICM will handle approximately 8,000 tons (7,257.5 tonnes) of cargo.
The company already has extensive experience in supporting mega-projects in Uzbekistan. During 2018, CJ ICM handled cargoes for the Uzbekistan gas-to-liquid project (UGTL) and the Uzbekistan Takhiatach thermal power plant project (UTCC). This included the transport of two 504-tonne units, which CJ ICM said was the heaviest cargo ever transported to the country, as well as 28 units that weighed over 100 tonnes.