Despite the adverse economic conditions brought on by the coronavirus pandemic, Liebherr was able to keep a healthy order book for its range of mobile harbour cranes, and even end the year with an order intake slightly above the level of 2019.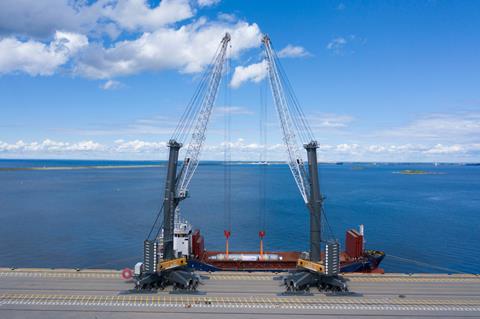 At the beginning of 2020, Liebherr Mobile Harbour Cranes (MHC) was able to rely on a strong order backlog; the first quarter of 2020 was also positive with several incoming orders. A decline, however, began in the second quarter as Covid-19 spread.
Nevertheless, projects were postponed not cancelled, and Liebherr noticed a delay in decision making that led to "an extended summer break" rather than a drastic downturn.
At the beginning of the fourth quarter, Liebherr said that it "felt a substantial recovery" with mobile harbour cranes sold on every continent.
Andreas Müller, sales director of Liebherr mobile harbour cranes and reachstackers, added: "This development gives grounds for optimism and provides a good base to start in 2021. A stable order intake will be the goal and a challenge in the coming year – especially due to the restrictions imposed by the corona pandemic. If we manage to achieve this, we should also achieve an increase in sales compared to 2020 – all in all, a positive forecast."