Harren & Partner is expanding its capabilities in the offshore sector with the launch of SAL Renewables and the addition of a versatile jack-up vessel to its fleet.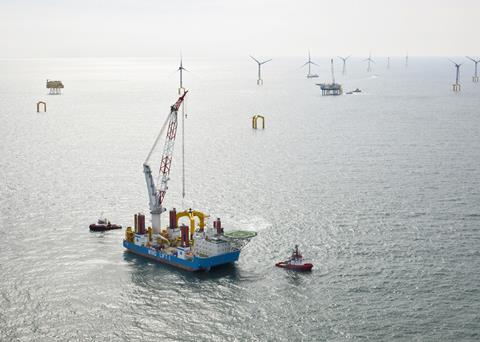 SAL Renewables will focus primarily on the maintenance, installation and decommissioning of offshore wind turbines and their corresponding components. This will be achieved using the newly added Wind Lift I – a 2010-built jack-up crane vessel, which has a lifting capacity of 500 tonnes. SAL Renewables will also have access to the offshore DP2 heavy lift ship Blue Giant, which is owned by Harren & Partner.
Heiko Felderhoff, co-managing director of Harren & Partner subsidiary Combi Lift, will lead SAL Renewables as its managing director. He said: "Wind Lift I represents an important enhancement of our fleet. It extends our scope of action to provide our customers with comprehensive, yet customised solutions.
"Wind Lift I is a highly adaptable vessel. There are only few things that it cannot do – it is kind of like a Swiss army knife. This asset makes for a great start for our new venture with SAL Renewables."
Stepping up as head of projects at SAL Renewables is Matthieu Moerman, head of marine projects at SAL Heavy Lift. "Megawatt capacity of wind parks keep increasing and old wind parks will be need to be renewed with new turbines or decommissioned," explained Moerman. "With Wind Lift I we are not only targeting the installation and maintenance market but also decommissioning and upgrading of old existing wind parks."
The team at SAL Heavy Lift already has extensive experience with the jack-up vessel. Moerman explained that the group has handled the Wind Lift I's technical management for a number of years. "Based on that we had the opportunity to add the vessel to our fleet and in direct continuation fix a contract for an offshore wind farm – for maintenance and the exchange of the blades and nacelles."
SAL also deployed Wind Lift I last year to perform a hydraulic hammer test as part of an offshore wind project in the North Sea.
SAL Renewables itself will not be involved in any traditional heavy lift shipping operations. These activities will continue to be handled by SAL Heavy Lift. As such, Harren & Partner said that SAL Renewables is a perfect complement to SAL's existing services – combined the two entities provide a comprehensive, complete maritime solution for the offshore wind industry.
Dr. Martin Harren, managing director of Harren & Partner, further explained the strategy behind the formation of SAL Renewables and the addition of Wind Lift I: "Wind power has been a cornerstone of our business in the past few years, and we continue to see significant projects here. The world's demand for energy is higher than ever before, and a major energy transition is currently underway.
"The projects resulting from this change are crucial to our business. SAL Renewables is a perfect supplement to our established logistics business, but also something new. By offering maintenance and component installation services predominantly for the wind turbines themselves, we are expanding our total service offerings to the global renewables market while also meeting the toughest individual demands and expectations in the offshore markets."
Expanding on SAL Renewables' scope, Moerman said that the main target market is Europe, including the Baltics and Mediterranean. "The Baltic market is interesting because it has relatively shallow waters. We know the limits, we know the depths, and we aware of our crane capacity. We cannot target all the new emerging markets but there are certainly some near-shore developments that we can look at." He said the division would also look at port construction projects, as well as bridge installation works.