Germany-headquartered United Heavy Lift (UHL) has established a joint venture with the Gustav Zech Fund at it steps up its growth strategy. The carrier has time chartered 17 of the fund's F900 Eco-Lifters for a 14-year period.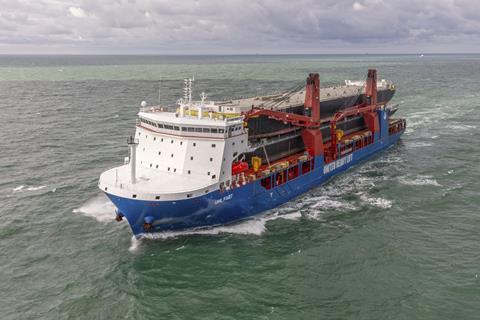 At the turn of 2020, UHL took control of nine Eco-Lifters formerly operated by Zeamarine: UHL Falcon, UHL Flash, UHL Fortune, UHL Future, UHL Fame, UHL Fast, UHL Focus, UHL Frontier and UHL Fusion. Lars Rolner, founder of UHL's parent company United Group, said this tonnage has performed well: "We also knew that another eight had been ordered and we thought it would be good for us to secure all the ships for the long term… this deal is strategically significant for the company. Now we have the most modern, most fuel-efficient fleet in the business."
The 14,100 dwt F900s are capable of lifting up to 900 tonnes, and the carbon footprint is 30-50 percent less than comparable tonnage on the market. In terms of consumption, the vessel can run at 15 knots on 20 tonnes, but that can be reduced to 12 knots on 14 tonnes.
UHL took delivery of the first of the eight newbuilds, UHL Faith, on January 18, 2021. A second is scheduled for delivery this coming April. The full contingent of F900s will come under commercial management of UHL by April 2022.
Rolner said these vessels are capable of handling large wind energy components, cranes, and gas modules where a " large number of projects are coming up". He added: "We proved last year on South Flank [a 450,000 freight ton contract for mining giant BHP in Australia] that the vessels are ideal for projects… To have a homogenous fleet where you complete the load planning on the one vessel type, and then you can change the ships out without any additional engineering is amazing.
"It is also amazing in this market that our newbuilding, UHL Faith, loaded a full load of containers from Shanghai to Hamburg on the maiden voyage," such is the tremendous demand for capacity at the moment, he added.
UHL, and the wider United Group, has been busy expanding its fleet and capabilities in recent years with a keen eye on green shipping activities.
Last year, United Wind Logistics (UWL) took delivery of two newbuild deck carriers, BraveWind and BoldWind. The 10,000 dwt vessels have a deck length of 128 m and a width of 28 m. They combine an optimised hull design with diesel-electric propulsion – the electric package was supplied by ABB and is powered by four MAN diesel generators driven by marine diesel oil.
The MAN engines meet IMO Tier III emission regulations having been equipped with urea injectors and catalyser that reduce NOx emissions by 95 percent.
Rolner said that it spent roughly three years designing and developing the deck carriers, which can be retrofitted with a hybrid system and potentially a fuel cell solution in the future. The goal is to run these deck carriers at zero emissions, when achievable. He believes cargo owners are starting to want environmentally minded services.
"It will come and we are seeing it. Some of our clients need to take all their sub-suppliers' [environmental] footprints into account, and there will be taxation on CO2 emissions. Climate-wise, this is an important development.
"Further to that, when you have the technology you ought to use it. That is why with the ships we have ordered ourselves, we have gone a long way to reducing whatever we can."
Extending its reach further, Marguisa and UHL expanded their joint sailing agreement and established United Marguisa Lines (UML) during October 2020. This entity will act as the operating company for their services to Africa.
UHL also expanded its presence in the Middle East/Indian markets when it opened a joint agency office with Ocean7 Projects, during July 2020; and named DUO Shipping as its exclusive commercial agent in Turkey during June 2020.
In May 2020, the group launched United Heavy Transport, which is responsible for the commercial operation of the semi-submersible vessels Hua Yang Long, Hua Hai Long, Hua Xing Long and Hua Sheng Long. Since June 2018, UHL has been the agent of these ships for GS-Pango International, which is the exclusive commercial agent for Guangzhou Salvage.