Ainscough Crane Hire deployed a Liebherr 1750-9.1 telescopic crane to upgrade a railway bridge in Crumlin, Wales.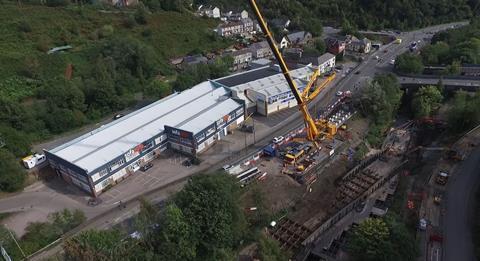 AmcoGiffen was tasked with the design and build of the new bridge and appointed Ainscough Crane Hire to carry out lifting duties on the GBP5 million (USD6.9 million) project, which is being funded by the UK's Department for Transport.
The lifting had to be undertaken close to the River Ebbw whilst maintaining operational use of the A467 – a strategic major road to Newport. The solution, Ainscough explained, was to create a crane platform that could offer structural support for the Liebherr 1750-9.1 whilst displacing the load away from the existing retaining wall for the river.
Ainscough removed and replaced the existing bridge so a wider deck could be fitted, allowing two railway lines to run across the bridge. This involved removing the four steel-plate arch girders and dismantling the steel decking. The team fitted 26 new pre-cast beams to reconstruct the sub-structure and were then able to install the new steel bridge of four plate girders and steel decking.
The structure was demolished and reconstructed in a total of 68 individual lifts following 'just in time' construction methodology tailored around the site layout and limitations.
Ainscough said that it was engaged early on in the project, which enabled all parties involved to undertake a series of site meetings to identify any potential clashes on site. These were then discussed and eliminated. This advance planning generated project efficiencies, with the work being completed ahead of schedule.
Ivan Ellis, major projects manager, heavy cranes at Ainscough Crane Hire, said: "Our work at Crumlin Road is a valuable demonstration of the importance of clients bringing in a crane hire team during the early stages of project planning. By the time we were in position on site, we had managed to address various issues that could potentially have slowed down the completion of the removal and installation process."