UK-based Ainscough Crane Hire has taken delivery of a 700-tonne lifting capacity Liebherr LTM 1650-8.1 mobile crane.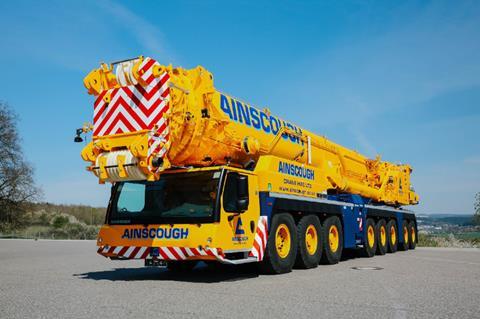 Ainscough said that the arrival of the LTM 1650-8-1 would enable the company to play an instrumental role in the key infrastructure projects, such as construction work for the UK's HS2 railway project.
"This latest substantial investment will allow the company to better serve its customers and respond to complex lift requirements in the 700 tonnes class or higher category," said Ainscough. "The new model is capable of lifting 15-20 percent more capacity than its predecessor – the LTM 1500-8.1 – and is designed to save fuel and reduce noise. It also features a faster rigging time of only two-and-a-half hours, dramatically increasing the time-efficiency of a lift."
The crane's 80 m-long main boom, plus its luffing jib, enables it to reach hook heights up to 151 m.
Derek Gow, commercial director at Ainscough Crane Hire, added: "Our crane investment programme will enhance the service we are able to provide our customers in a wide variety of sectors across the country as we look to support the recovery effort from the pandemic.
"Green technology is of great importance both for both ourselves and our clients as we look towards reducing our carbon emissions as an industry. The new crane's specialist Stage V engine will allow us to engage in eco-friendly construction practices and help our clients deliver upon ambitious and vital environmental strategies."