UAE-based shipbuilder Albwardy Damen has added a Grove GRT655L rough-terrain crane to its fleet.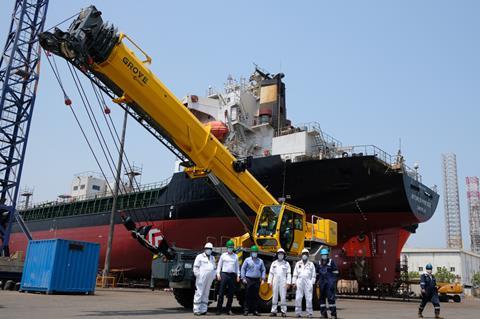 The crane – manufactured at Manitowoc's plant in Niella Tanaro, Italy – has a 60-tonne lifting capacity and a five-section 43 m boom.
The crane features an optional 7.9 m to 13.7 m telescopic boom extension, as well as a tiltable cab, inverted outrigger jacks, hydraulic disc brakes and an eco-mode for lower fuel consumption.
Regional dealer Kanoo Machinery supplied the GRT655L to Albwardy Damen – which is a joint venture between Albwardy Investment and Damen Shipyards Group.
Shara Igor Balin, facility manager at Albwardy Damen, said: "The new GRT655L is a really versatile unit for us. We can lift and turn large sections at shorter radii or install smaller and lighter parts at long distances on ships we have docked."