USA-based ALL Family of Companies has placed an order for 21 all-terrain cranes from Liebherr, which will be delivered throughout 2021.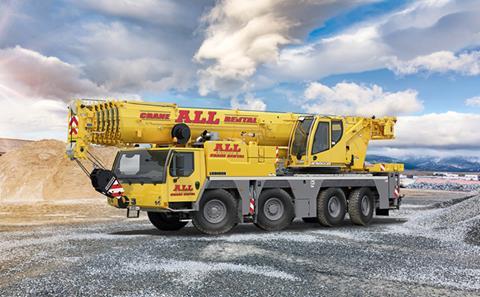 The order includes four LTM 1120-4.1s, in addition to an LTM 1130-5.1; an LTM 1230-5.1; three LTM 1160-5.2s; three LTM 1450-8.1s; an LTM 1110-5.1; an LTM 1150-5.3; and an LTM 1650-8.1.
Michael Liptak, ceo and president of ALL Crane, said the company made the purchase to maintain the strength of its fleet across North America.
Three of the units in the package are new models with an array of technologies and performance features suited to serve ALL's wide-ranging customer mix and geographies.
This includes the LTM 1120-4.1, which has a lifting capacity of 135 tons (122.5 tonnes), delivering performance on four-axles previously only available on five axles. The LTM 1150-5.3 offers a ten percent longer telescopic boom and 15 percent higher capacity than its predecessor. The LTM 1650-8.1, meanwhile, made its debut at last year's bauma trade fair and features a lifting capacity of 770 tons (698.5 tonnes).
Speaking of the purchase, Liptak said that growth in road, bridge and general infrastructure engineering; construction work; and the prospects for the wind energy market are driving demand for all-terrain cranes.
Liptak continued: "This purchase also has a lot of cranes with longer booms, which give our customers added flexibility for commercial construction. We are also fortifying our fleet to support growth in new construction and expansion in manufacturing and industrial buildings."
Liptak added that many of the Liebherr cranes in the package conform to road limits in the company's major markets, improving mobility between its branches.
16 of the cranes are scheduled for delivery in the second and third quarters of 2021.