Heavy haulier Anipsotiki is deploying its Goldhofer FTV 550 blade lifter trailer to transport wind turbine components to the Kassidiaris wind farm in Greece.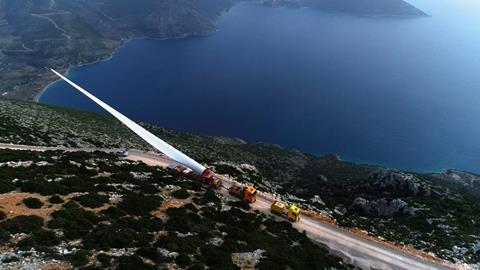 With blades measuring 70 m long, Anipsotiki has utilised its Goldhofer FTV range of trailers that are capable of raising and rotating the blades to avoid obstacles along the route.
Goldhofer explained: "The turbine blade is mounted horizontally to the FTV blade lifter ­in exactly the same way as it is ultimately mounted on the rotor hub. With the hydraulic tilt mechanism and 360-degree pivot system, the secured turbine blade can be erected up to an angle of 60 degrees and rotated around its own axis as required."
The manufacturer added that this avoids the need to remove trees on winding forest roads, and helps manoeuvre the components around tight bends.
Anipsotiki has relied on Goldhofer transporters and equipment since 2009. In addition to numerous self-propelled modules from the THP and ADDrive series, its fleet comprises several FTVs.
To date, the company said that it has transported 366 wind turbine blades using Goldhofer FTV 300 and FTV 550 blade lifters.