Colonia Spezialfahrzeuge has used its recently acquired Liebherr LR 1800-1.0 crawler crane to erect an Enercon 4.2 MW turbine at a wind farm in North Rhine Westphalia, Germany.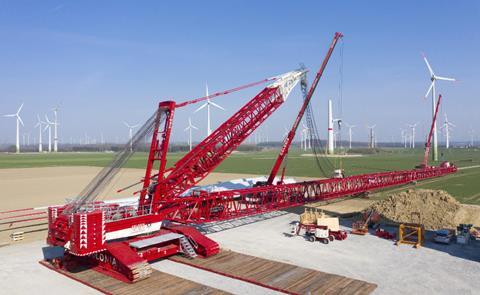 According to Liebherr, an LTM 11200-9.1 mobile crane had already been deployed to position the tower sections of the wind turbine. The 800-tonne capacity LR 1800-1.0, which the Cologne-based crane operator received in March 2020, was required to lift the heaviest components.
The crane was assembled in six days with a 171 m main boom and a 12 m jib. It was then used to lift components weighing 89 tonnes at a hub height of 160 m.
Liebherr first unveiled the LR 1800-1.0 crane in 2018 before it was officially launched at the bauma construction machinery exhibition in 2019. Since then, the first ten units of the crane have been delivered to customers in Spain, the USA and Asia.