Equipment manufacturer Cometto has delivered a 10-axle self-propelled ModulMAX SP-E for Norway's Hydro Aluminium Metal.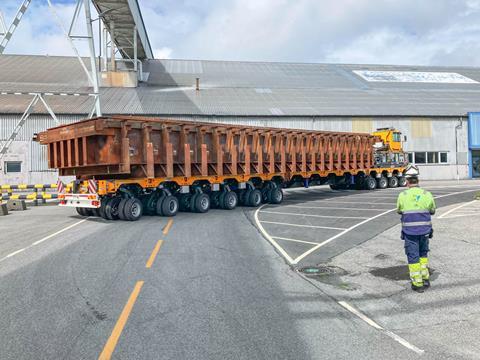 The vehicle was commissioned to operate in the production halls where the company makes aluminium – where there is a strong magnetic field, measurable in units of gauss. The unit delivered to Hydro Aluminium Metal needed to be capable of handling payloads up to 250 tonnes and operate at a magnetic flux density of 610 gauss.
Cometto explained that in such an environment, mechanical wristwatches stop and a 41 mm open-end spanner straightens up vertically as a result of the magnetic field. Therefore, to ensure the unit's radio remote control and electronic steering of the self-propelled vehicle could work, Cometto had to devise a solution.
Joachim Kolb, the project manager, explained: "Through targeted shielding protection measures in the area of the electrical valves and around the PC with its electronic control cards, our developers succeeded in making the vehicle suitable for use in such a special environment."
The vehicle combination delivered to Hydro Aluminium Metal consists of a four-axle module with spacer and a six-axle module. In order to keep the overall length as compact as possible, the 372 kW powerpack with its two Tier 5 diesel engines and the driver's cab were positioned on top of each other on the chassis. This design also guarantees the driver the best possible overview during transport.
Equipped with eight wheels per axle line, and the targeted protection in place, the self-propelled unit took on the task of transporting a potshell from the production hall to a repair area at the plant, where it was then fitted with new cathodes and a new lining.