Bavaria, Germany-based crane rental service provider Autodienst Eineder has utilised its 60-tonne Liebherr LTR 1060 telescopic crawler crane to install transformer stations on solar farms.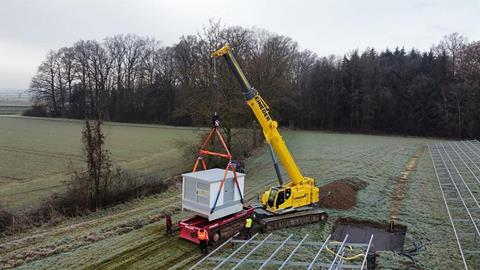 Managing director, Peter Eineder, said: "Its off-road capability and manoeuvrability makes the LTR 1060 ideal for jobs in solar parks. Its 'pick and carry' mode is particularly good as it enables us to carry transformer stations weighing up to 20 tonnes straight from the transport vehicle to the installation site."
Liebherr said that its design allows the crane to travel on site with a full load on its hook.
In addition to the 4.8 m-wide track, the LTR 1060 can also work safely on a track width reduced to 3 m using a crane control system, which "is a major benefit on constricted sites. We also appreciate the sensitive control of the LTR 1060 when things are tight," said Eineder.