Under-the-jib equipment supplier ematec will display an offshore version of its RBC-D rotor blade lifting beams at the WindEnergy 2022 conference and exhibition in Hamburg.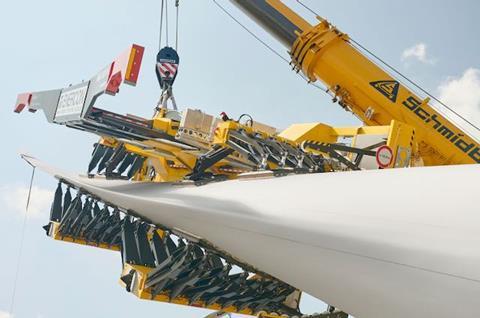 The manufacturer will also use the event to unveil its RBT-C50 concept – an offshore lifting beam that can pitch rotor blades by 90 degrees before assembly.
"I am very proud that we can offer the trade two new developments for rotor blade assembly in the offshore sector at WindEnergy Hamburg. This is another milestone for us," said Manfred Eberhard, ceo of ematec. "Up to now, we have mainly asserted ourselves onshore and established our yokes as benchmarks. But we also want to make rotor blade assembly and maintenance at sea as efficient and safe as possible. So we have been working diligently. And in short: we can now also do offshore."
The RBC-D was first developed for onshore use, its cross beam being able accommodate all blade shapes without changeover times. This is made possible by the automatic adaptive blade support, with which the crosshead automatically adapts to each rotor blade shape. It is available for rotor blade assembly at sea. The RBC-D40 offshore can safely pick up and handle rotor blades of up to 40 tonnes – regardless of the blade shape. This makes the innovation suitable not only for initial assembly but also for the maintenance of offshore wind farms, said ematec.
Meanwhile, ematec said the latest RBT-C50 combines the technological advantages from the RBC and RBT, offering automatic adaptive blade support (RBC) on one hand and a pitch angle of 90 degrees (RBT) on the other. "This means that our latest development definitely has the potential to revolutionise the assembly of offshore wind turbines," Eberhard enthused.
WindEnergy Hamburg takes place September 27-30, 2022.