Two eight-axle MultiMAX lowbed trailers from Faymonville have departed the manufacturer's facility in Lentzweiler, Luxembourg, and are on their way to the UAE where they will join Dubai-headquartered Al Faris' fleet.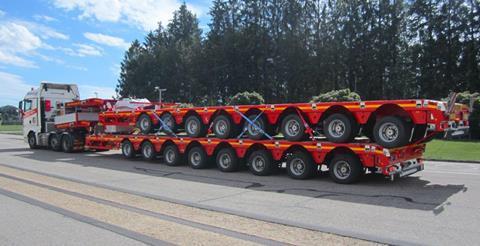 From Luxembourg, the trailers were transported to the port of Antwerp, Belgium, and are currently being shipped to Jebel Ali port.
The semi-trailers have a basic width of 2.99 m and will add further versatility and capacity to Al Faris' vehicle fleet. With a robust chassis, the MultiMAX units are capable of handling long and heavy industrial components, including cargoes from the energy sector as well as crane components.
Faymonville added that the hydraulic gooseneck, suspension and steering enables the trailers to manoeuvre along difficult terrain, around narrow job sites and winding roads. The loading platform can be extended from its basic length of 14 m up to 33.5 m.
Later this year, Al Faris will take delivery of three more trailers of the same type from Faymonville.