Saudi Arabia's Gulf Haulage Heavy Lift Company (GHHL) has purchased 18 mobile cranes from Liebherr.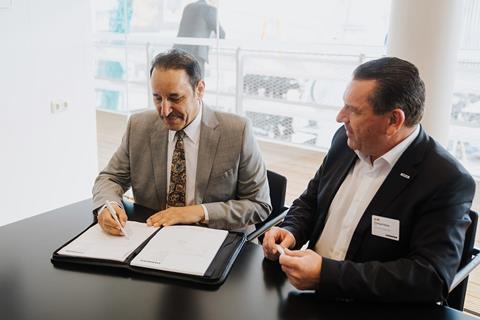 The machines expand the company's fleet of cranes in the 100-300-tonne capacity range.
"The requirements in the Saudi market are growing and we are seeing a growing demand for mobile cranes, especially in the class between 100 and 300 tonnes," explained company chairman Hussein Ali Al Anazy. The order placed with Liebherr comprises six LRT 1100-2.1 rough-terrain cranes, six LTM 1120-4.1 all-terrain cranes, four LTM 1150-5.3models and two LTM 1300-6.2 cranes.
Until now, GHHL's primary focus has been on large and lattice boom cranes. "The mobile cranes we have ordered will expand our new class of cranes, which will complement our heavy-duty cranes and enable us to offer complete crane solutions for our customers. Liebherr is a leading manufacturer with top quality products and customer services," said Sanjay Pachisia, ceo of GHHL.
GHHL uses its cranes in the renewable energy sector, in infrastructure and construction projects, and in the traditional Saudi market for oil, gas and the petrochemical industry.