Huisman and wind turbine manufacturer Siemens Gamesa have worked together to develop a system that will stabilise wind turbine components during installation.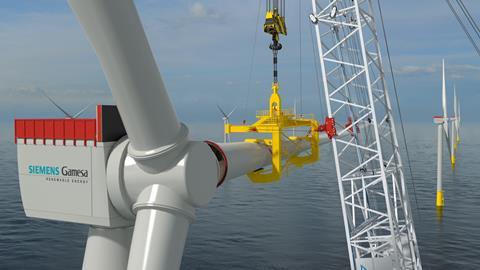 The travelling load stabilising system consists of two pairs of tuggers working in unison to control the position of the load. One pair is fitted on independent trolleys that can travel along an integrated rail along the crane's stiff boom. The trolleys automatically follow the main block to maintain an optimal tugger line configuration.
The second pair of tugger lines is deployed from the crane tip providing a force perpendicular to the first pair of tuggers. By approaching the load from two different directions, the system provides significantly more control than a conventional single pair of tuggers, said Huisman.
A specially designed control system holds the actual position of the load, resulting in a much stiffer restraint, and therefore a higher position accuracycompared to conventional tugger systems that rely on constant tension. In case of an unexpected overload, the system will give way but will return to its position setpoint when the force drops below the threshold again.
Jesper Moeller, chief engineer execution at Siemens Gamesa, said: "This is crucial for the technical readiness of next-generation offshore wind turbine installations,even under challenging wind conditions. The resulting increase in installation uptime will be accompanied by a positive effect on the operational activities ingeneral, as well as increased on-site safety.
"Siemens Gamesa sees the system as a potentially new industry standard with benefits for the whole wind industry, providing more productive vessel days, while at the same time reducing (de-)mobilisation times. Hence, Siemens Gamesa will consider the availability of the new travelling load stabilising system on installation vessel cranes as a significant factor in decision making when selecting/hiring appropriateinstallations vessels in the future."