Karmsund Havn has ordered a second Liebherr LHM 550 mobile harbour crane for its Haugesund cargo terminal in Norway.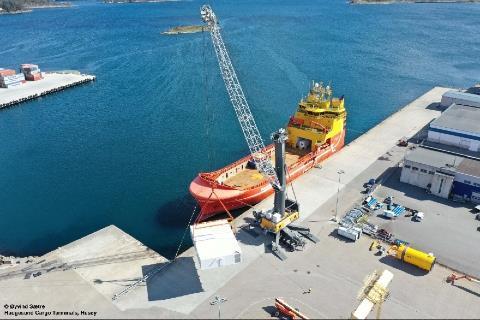 Karmsund Havn took delivery of its first LHM 550 two years ago. With the two units, Haugesund cargo terminal will be able to provide tandem lifts of payloads up to 308 tonnes, meaning it will be able to support the growing offshore wind industry.
Tore Gautesen, Karmsund port director, said: "We are deeply involved in the project market and have the best equipment fleet in Norway for heavy lifting. The investment in crane number two will also give us great opportunities to position the terminal when handling modules for offshore wind turbines.
"The new mobile harbour crane will, like crane number one, be powered by electricity. This is in line with the port of Karmsund's goal of a green port," added Gautesen.
The LHM 550 has a maximum lifting capacity of up to 154 tonnes and a maximum outreach of 54 m. It will be shipped fully assembled onboard the heavy load carrier Meri from Rostock, Germany during March.