Edinburgh-based Bernard Hunter Mobile Cranes has taken delivery of a Liebherr LTM 1650-8.1 mobile crane.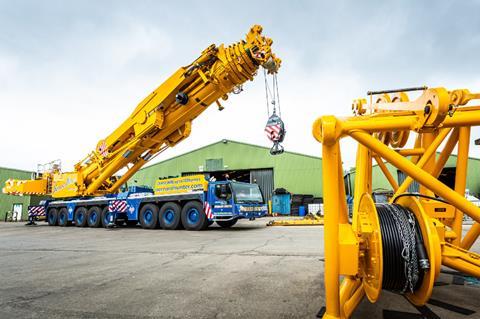 According to Bernard Hunter, the eight-axle crane is Scotland's first Liebherr 700-tonne capacity crane and only the second of its type to enter service in the UK.
The LTM 1650-8.1 is kitted out with both 50 m and 80-m long booms, a Y-guide boom system for additional capacity and a lattice boom-type fixed jib of 62 m. It is also equipped with Liebherr's VarioBase system controlling the outrigger spreads.
The unit will replace the company's 500-tonne capacity LTM 1500-8.1.
"We'd been waiting for the updated model with great anticipation, as our 500 tonne LTM 1500-8.1 was the last Liebherr crane model due for a refresh," explained Mark Rafferty, managing director at Bernard Hunter.
"The new Liebherr LTM 1650-8.1 puts our business into a different league as a supplier of heavy lifting solutions… The variety of applications it will suit is incredible. Some of our customers are already starting to plan work for the 700 tonner," he added.