Mammoet added a CC 38.650 crawler crane to its Brazilian fleet that will be deployed at the Cajuina wind farm in Rio Grande do Norte.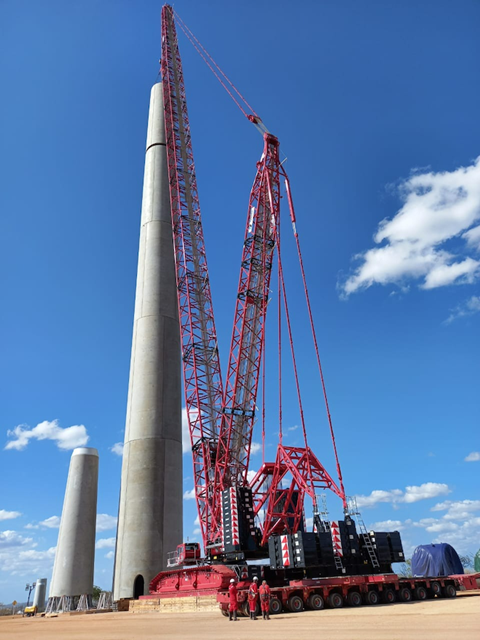 The crane will handle tower sections up to 255 tons (231 tonnes) and has a boom length ranging from 105-129 m. Mammoet said the addition of the crawler will strengthen its position in the local wind energy market.
The Brazilian government has steadily invested in expanding wind power generation throughout the country. In early 2022, wind energy represented about 11 percent of the Brazilian energy matrix, making it the third most common source. Overall, the country is the biggest wind energy producer across Latin America.

The new generation of wind turbines now debuting in Brazil are getting larger and heavier, as developers increase the use of concrete sections in hybrid towers. These concrete tower sections, which are poured on site, can be two to three times heavier than their steel counterparts.
 

According to Mammoet, this means crawler cranes are used more frequently for projects with concrete towers, so that the sections can be lifted and tracked across the hardstand into their final installation positions.
The increase in component weight also means developers can find themselves choosing from a smaller pool of lifting equipment, as cranes in the 600-750-tonne capacity range are often already at work in other sectors.