UK-based under-the-jib equipment manufacturer Modulift has released its multi-point lifting system, an all-in-one solution that can be used as a semi-spreader, a lifting beam, or for tandem lift operations.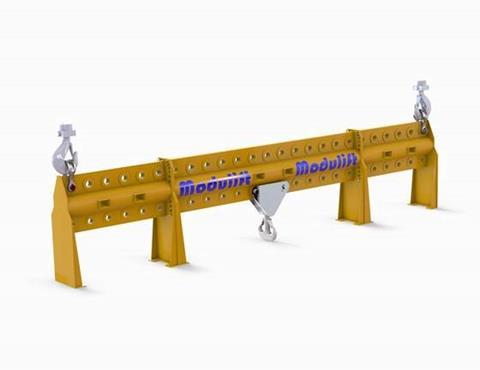 Featuring a modular design, the beam can lift at spans from 3-12 m, with a lifting capacity from 12- 600 tonnes. Sections are simply unbolted to lengthen or shorten the system and change the rigging setup.
Multiple connection points on the top and bottom mean the beam is capable of lifting a wide range of cargo such as boats, reels, tanks, or turbines. It also features an optional 360-degree swivel hook and extended support stands, making it suitable for tandem lifts with two cranes when there is only one lower lifting point required and the rotation of the load is critical, said Modulift.
The beam can also be used as a semi-spreader to give a more balanced lift, or as a lifting beam when headroom is restricted.