Poland-based energy company PGE Gornictwo i Energetyka Konwencjonalna (PGE GiEK) has taken delivery of a Liebherr LRT 1100-2.1 rough terrain crane.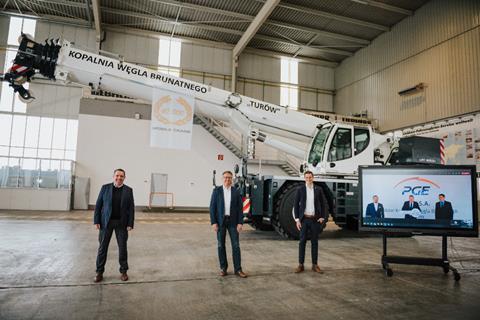 PGE GiEK – part of the PGE Capital Group – operates two lignite mines and five power plants in various regions of Poland. It said its decision to buy the 100-tonne capacity crane was based on its satisfaction with the Liebherr cranes from the old LTL series.
The delivery of the LTM 1100-2.1 crane marks an important milestone for Liebherr – the supply of its 40,000th crane since it first opened its plant in Ehingen, Germany, in 1969.
PGE GiEK also took delivery of an LTM 1030-2.1. The company mainly uses Liebherr cranes for maintaining and repairing mining machines, building access roads on mining sites and for installing and dismantling conveyor belts.