Rope and Sling Specialists (RSS) has supplied rigging gear to Quattro Group for the urgent removal of a 24 m-long railway footbridge that had been knocked off its foundations by a heavy goods vehicle in South Wales, UK.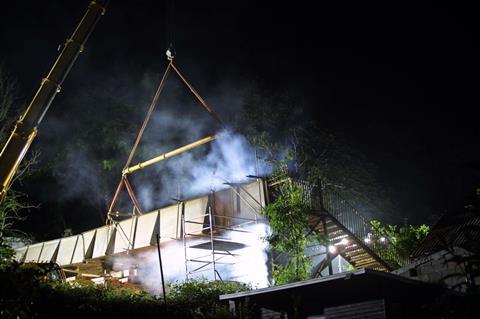 Quattro utilised its 55-tonne capacity Demag AC 55 crane to lift the 20-tonne bridge. RSS delivered three spreader beams that were used in a one-over-two configuration – a 10 m-long MOD50 beam, and two 3 m-long MOD24 beams underneath.
In addition to the beams, RSS supplied 30-tonne capacity roundslings that were rigged from the crane's hook to the top beam, and four 10-tonne capacity roundslings connecting the upper beam to the counterparts underneath. The configuration also included four 12-tonne capacity collar chains and shorteners, and four 25-tonne capacity bow shackles.
Gary Worsley, site manager at Quattro, explained: "The bridge was cut into sections prior to removal because of the way it had fallen, and each load was cradled as we lifted the pieces.
"We lowered them onto a road rail vehicle and trailers for transportation by rail to a site compound, where they were to be offloaded and cut up into smaller pieces as scrap."
Commenting on the emergency nature of the operation, RSS regional manager Stephen Littler said: "Same day delivery is imperative in such situations; without healthy stock levels at each of our regional depots, that kind of service would be impossible to provide to customers like Quattro."