Sarens has taken delivery of a Spierings battery-powered hybrid mobile tower crane – the first in a series of six electric cranes joining the company's fleet.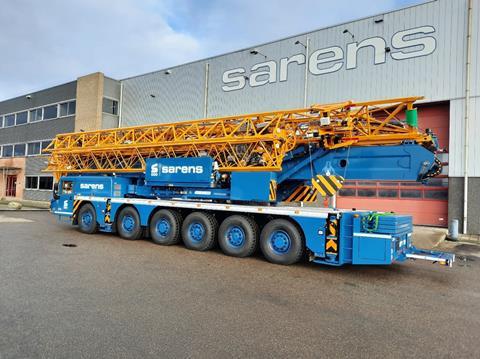 The order included three SK1265-AT6 eLift cranes and three SK597-AT4 eLift units. The first – one of the SK1265-AT6 types – is a six-axle mobile tower crane that has a gross vehicle weight of 72 tonnes and a maximum lifting capacity of 10 tonnes.
On the road, the crane is powered by a DAF 390kW diesel Euro 6 engine. On the jobsite, the Spierings eLift cranes can work on electricity in full speed and capacity. The battery pack in the superstructure delivers 33 kWh and allows for three hours of operation off the grid. By connecting onto a 16A or 32A grid, the batteries can be continuously charged, so zero-emission crane operation can be performed all day.