Germany's Steil Kranarbeiten has purchased a Liebherr LTM 1650-8.1 crane and supporting equipment including 54 m and 80 m telescopic booms, plus the complete luffing jib.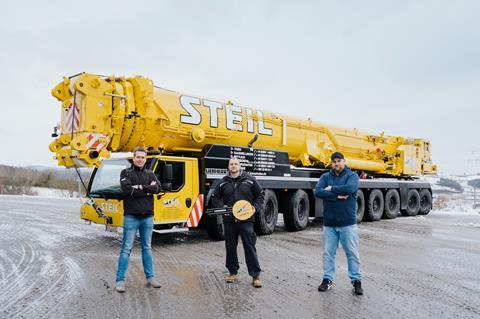 "We have operated several Liebherr LTM 1500-8.1 cranes for many years and have now invested in its successor," said Birgit Steil, the owner of the company based in Trier. "It is another eight-axle crane which has the same compact measurements with the H-outriggers. The lifting capacity values on the luffing jib are enormous."
With a lifting capacity of 700 tonnes, it exceeds the capacity of its predecessor by 15 to 50 percent, depending on the equipment package, said Liebherr.
Steil is planning to use the LTM 1650-8.1 for jobs in industry, port handling, and for wind power. "The requirements in industry and wind power are constantly on the rise as are the required lifting capacities. Furthermore, the concepts of VarioBallast and VarioBase are another benefit of the crane," said Steil.