Indonesia-based Superkrane deployed its Grove GMK6300L-1 all-terrain crane to lift concrete beams for a railway bridge project in Jakarta.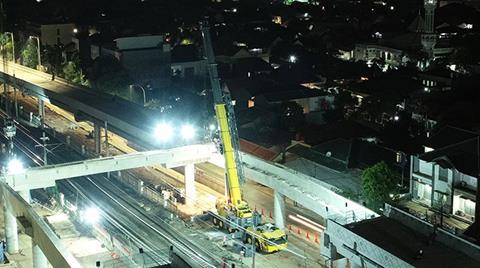 The GMK6300L-1 is the latest addition to Superkrane's fleet and the first of its type in Indonesia, said Manitowoc.
Johannes Wargo, president commissioner of Superkrane, said that the company chose to invest in the 300-tonne capacity machine because it had a positive experience with its predecessor, the GMK6300L. The updated model offers enhanced load charts and increased working radii and capacity.
Superkrane deployed the crane for the construction of a flyover bridge across an existing rail line in Jakarta. The company said that it was only able to lift the beams for the bridge in a three-to-four-hour window, so having a reliable crane with fast set-up was important.
The GMK6300L-1's self-rigging auxiliary hoist helps crews rig and de-rig the crane faster, whilst the hydraulic swingaway jib and counterweight design contribute to better speed and flexibility in tear down, Manitowoc said.
When working with the full 80 m-long boom, rigged with full counterweight and lifting between radii of 14 m to 28 m, the crane has a maximum capacity of 14 tonnes, compared with 12 tonnes for the previous model in the same configuration.
Manitowoc added that the crane, powered by two Mercedes engines in the carrier and the superstructure, has a range of jib options for greater versatility. The model also features Manitowoc's patented suspension system Megatrak.