Tadano has outlined sustainability as one its business development goals. The company said solutions such as its E-Pack, as well as hydrotreated vegetable oil (HVO) compatible engines, will help it to achieve significant reductions in CO2 emissions.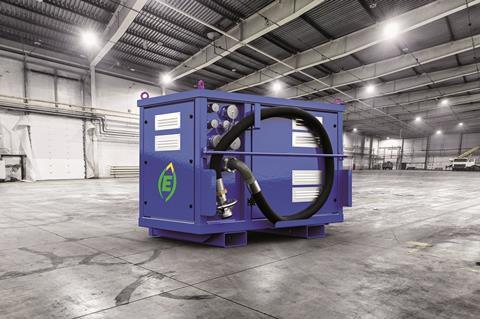 Tadano said it will reduce CO2 emissions from its business activities worldwide by 25 percent, and by its products by 35 percent.
The E-Pack, an electro-hydraulic unit, features an integrated 32-kW electric motor that enables Tadano AC 3.045-1 City and AC 4.080-1 cranes to work with zero emissions, Tadano said.
"The E-Pack will soon be usable with additional crane models," said Dr. Frank Schröder, all-terrain crane product line vice president.
The unit is recommended for crane jobs inside buildings, in dense urban areas, and at night in residential areas, Tadano added.
A large number of Tadano cranes are able to run on alternative diesel fuels already, the company continued.
For the European market, this specifically means that all Tadano HK superstructure engines, all CC lattice boom crawler cranes, the GTC 1800EX telescopic boom crawler crane, and nearly every all-terrain crane can be operated with paraffinic and synthetically produced diesel fuels in conformity with DIN 15940 without any modifications. This includes reduced-emission fuels such as HVO, gas-to-liquid, and biomass-to-liquid fuels.
Jens Ennen, ceo and president of Tadano Demag and Tadano Faun, said: "Even if HVO is not available everywhere, we consider it an effective option for reducing particulate matter and greenhouse gas emissions in existing vehicles and allowing for operations with significantly reduced emissions throughout the entire lifecycle of our products and beyond. That's why Tadano will be gradually switching its plants over to renewable fuels so as to keep the emissions from our cranes as low as possible starting from the actual production process."
Tadano said it is working on additional measures regarding environmentally friendly engine technologies for mobile cranes.