Saudi Arabia-based Fahad S Al Tamimi & Partners (Tamimi Rentals) has acquired 50 GRT8100 rough-terrain cranes to support the expansion of its oil and gas operations.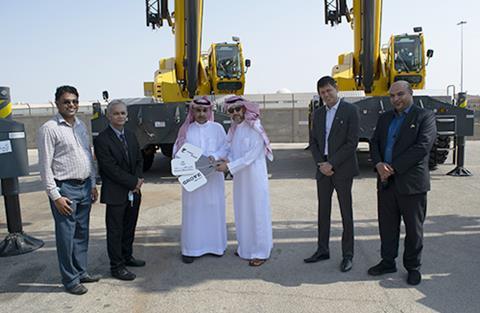 The Grove cranes were acquired via equipment supplier Kanoo Machinery and will join Tamimi Rentals' fleet, which already includes over 40 Grove all-terrain cranes.
The GRT8100 cranes have a 100-tonne lifting capacity and a five-section boom that extends up to 47 m, which can extend further up to 64 m with the use of a jib.
Mohammed Fahad S Al-Tamimi, ceo at Tamimi Rentals, said: "We chose Grove GRT8100 rough-terrain cranes because they have a very good load chart, which is about 25 percent stronger than competitive machines.
"We also liked the precise and customisable movements that the Crane Control System (CCS) offers," he added.
The first batch of GRT8100 cranes have been delivered, with more to follow in the coming months. They will be deployed to a range of jobsites where typical lifts with include handling heavy machinery at a short radii.
Tamimi Rentals said that the investment will help to lead its long-term business expansion in the company's construction division, specifically to help it win more work in oil and gas fields.