Italy-based construction company Moretti has taken delivery of a Grove GMK4100L-1 all-terrain crane.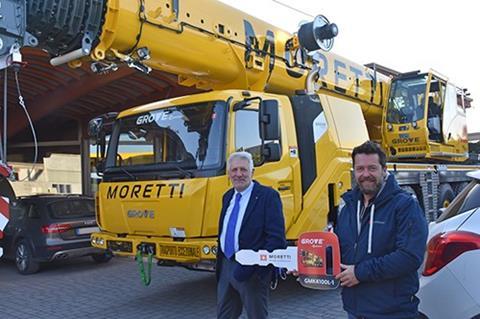 The GMK4100L-1 – Moretti's third Grove crane in its fleet – offers the "best-in-class load charts from an extremely compact format," according to Manitowoc.
The four-axle crane has a maximum lifting capacity of 100 tonnes. It has a seven-section boom that measures 60 m. The crane can travel with up to 6.7 tonnes of counterweight at 12 tonnes per axle in a taxi configuration.
With a width of 2.55 m, the GMK4100L-1 is able to travel to confined inner city jobsites, Manitowoc said.
The Megatrack independent suspension ensures excellent manoeuvrability, whilst the four-wheel drive and all-wheel steering provides superior steering both on and off-road on challenging terrain. This reduces tire wear and stress on the non-steered axles, according to Manitowoc.