N.C. Nielsen has supplied the port of Uddevalla in Sweden with a 100-tonne capacity reachstacker.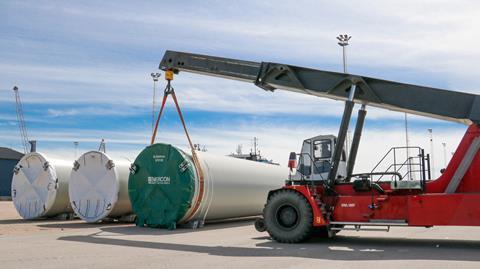 The machine is a modified Konecranes unit with a net weight of just over 79 tonnes.
Robert Rydén, project and operations manager at Uddevalla Port, explained that the port was seeking out additional lifting power, particularly as it expects to handle increasingly larger wind turbines.
Rydén said: "Wind turbines are only getting bigger and bigger and we needed a machine that was both powerful and flexible. We previously had a reachstacker from N.C. Nielsen that handled 65 tonnes in one lift, but we need a bit more.
"In 2020 alone, we will be handling 67 complete turbines that will be unloaded in the port, then loading 176 tower sections on 31 different occasions onto smaller vessels here in the port.
"A single tower section can weigh up to 95 tonnes and a nacelle, with the generator on top, the same amount. [With the reach stacker] we will now be able to handle the nacelle with one single lift."