Switzerland-based Welit-Furrer has taken delivery of three cranes from Liebherr – the LTC 1050-3.1 compact crane, an LTM 1130-5.1, and an LTM 1160-5.2.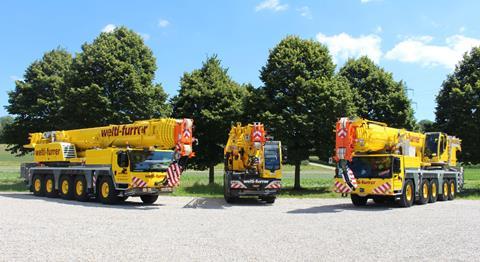 The LTM 1130-5.1 and LTM 1160-5.2 mobile cranes, which have a maximum payload of 130 tonnes and 160 tonnes respectively, will replace two ageing 100-tonne capacity machines.
The LTC 1050-3.1, meanwhile, has maximum lifting capacity of 50 tonnes. Fabian Meier, managing director of heavy goods logistics at Welti-Furrer, said that this unit will be suited for jobs on constricted sites due to its compact design.
Liebherr added that the LTC 1050-3.1 is also the first crane to be equipped with its RemoteDrive function – allowing the chassis to be controlled remotely.
Meier added: "The three new cranes will replace older vehicles and therefore strengthen our fleet in every respect. They will enable us to meet all our customers' requirements."