DB Schenker and urban mobility air firm, Volocopter, have partnered up to provide fast and emission-free transport of goods using drones.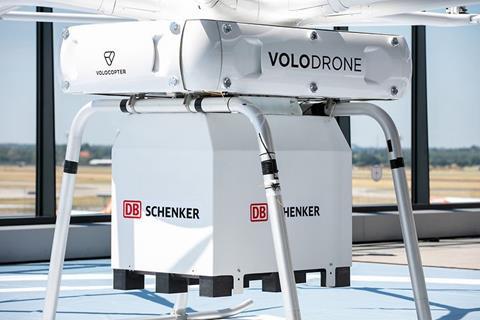 Volocopter's heavy lift drone – Volodrone – was presented at the National Aviation Conference at Berlin Brandenburg Airport on June 18.
The test aircraft from Volocopter was showcased with a sample transport container from DB Schenker. The logistics service provider explained that, in commercial operation, it will be able to cover distances of up to 40 km and can take off and land vertically, making it useful to access hard-to-reach locations such as islands or mountainous regions.
Jochen Thewes, ceo of DB Schenker, said: "When the infrastructure for conventional means of transport is overburdened or non-existent, cargo drones offer an opportunity to rethink logistics routes. Through our partnership with Volocopter, this vision is gradually becoming reality. Drone transport is becoming increasingly tangible."