Al Faris Group has transported, lifted, and installed various components for two power plant expansion and upgrade projects in the UAE.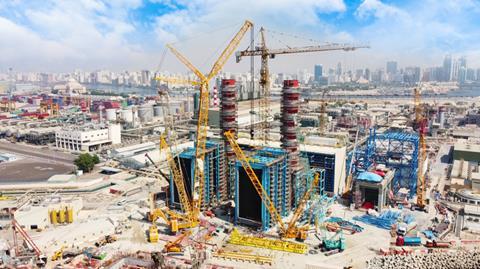 The projects – which took place over a period of six months – involved the handling of heat recovery steam generator modules (HRSG), condensers, steam drums, generators, and tanks.
At one project site, Al Faris Group used conventional hydraulic trailers and SPMTs to move the components. The company also executed over 50 heavy tandem lifts, including the installation of HSRG modules. The lifts were completed using Al Faris' fleet of crawler cranes ranging in capacity from 250 tonnes to 800 tonnes.
The other project saw Al Faris deploy its Liebherr 1,000-tonne capacity crawler crane to install a total of 15 modules ranging in weight from 160 tonnes to 353 tonnes.
To transport the components, conventional hydraulic trailers and SPMTs were once again used. Al Faris also fabricated 270 customised stools for storage of the modules on site.
Al Faris said all surveys, planning, technical support documentation, execution plans and schedules were prepared in-house prior to job execution, which helped organise activities smoothly with minimum delays.