Al Faris has transported heavy overflow tanks from Jebel Ali Port to the Mohammed bin Rashid Al Maktoum solar park in the UAE using Goldhofer THP/SL heavy-duty modules.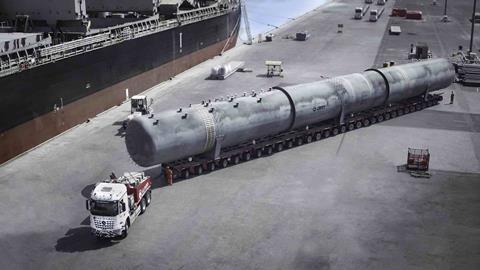 The 52 m-long loads weighed 235 tons (213.2 tonnes). Each journey required a convoy of two files, each comprising 30 Goldhofer axle lines, and a Mercedes Arocs tractor.
The biggest challenges involved in this heavy haul project were keeping loading times as short as possible and planning the optimum route from the port to the solar park. Strict specifications had to be met due to time restrictions and the storage volume in the port.
The route itself had to be meticulously planned in terms of modifications to the roads, detours and temporary bypass roads in order to avoid any obstacles. The Goldhofer THP/SL series, which combine a high bending moment and an impressive suspension stroke, avoided problems with uneven terrain on the construction site.
On arrival at the site, the tanks were offloaded and moved about 100 m by a crawler crane and placed on the awaiting foundations.