ALL Erection & Crane Rental deployed its Liebherr LTM 1450-8.1 and Liebherr LTM 1500-8.1 cranes to install a conveyor at Centerra Co-Op's facilities in Mansfield, Ohio.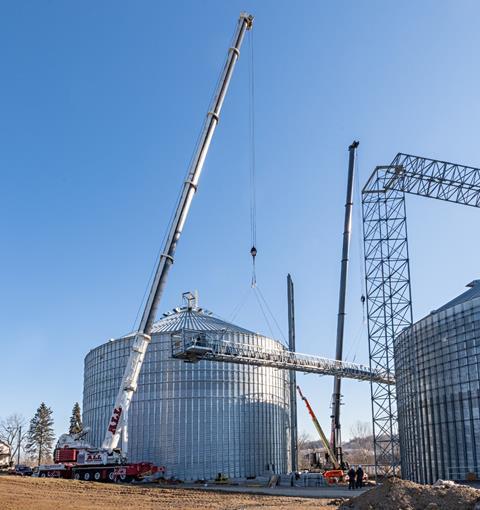 The conveyor – measuring 197 ft (60 m) long and weighing 80,000 lbs (36.3 tonnes) – connects agricultural silos at the plant. ALL determined that two of its heavyweight cranes were required, with lifting capacities of 550 tons (499 tonnes) and 600 tons (544 tonnes), as a result of the size of the load, the required radius and the height of the work area.
"We needed two cranes that could extend to 130 ft (39.6 m) in the air to give us the necessary hook height," said Bernie Paridon, sales and rental representative for ALL. "We knew it would take two machines that each had capacity in excess of 500 tons (453.6 tonnes)."
The LTM 1500-8.1 was configured with 189 ft (57.6 m) of main boom and a 95.5 ft (29 m) lift radius, while the LTM 1450-8.1 had 208 ft (63.4 m) of main boom and a radius of 75 ft (22.9 m).
The conveyor was assembled on the ground and each crane hooked one end. Due to a significant slope of the ground, snatch blocks were employed in the rigging to keep the load level as it was hoisted.
It took approximately 45 minutes to lift and swing the conveyor into position, with operators then holding it in place for several hours while it was bolted and welded into place.